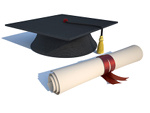 UNICRE Centre offers newly built research and teaching infrastructure, which significantly increases the potential space for education, science and research. Synergistic idea is direct and organizationally flexible interconnection of research and development activities with teaching in one unit.
We provide processes of research-development activities with emphasis on the cooperation of students, representatives of industry and educational institutions in the country and abroad. In UNICRE there is succesfuly growing area of international cooperation through the exchange of students with similarly focused universities and academic institutions in Finland, Spain, Sweden, Italy and Slovakia.
We are popularizing chemistry among young people in our region. We therefore cooperate with secondary schools, organize lectures, excursions and organize professional seminars for teachers.
We offer to students:
Participation in national and international research programs
Support within working on bachelor, master or doctoral theses
Foreign work internships
Interesting and independent work
Professional growth and carrier
We offer to schools:
Excursions, open days and presentations
Study internships and professional experience in the Centre
Mutual cooperation and expert collaboration in the field of research
Infrastructure offers:
23 modern laboratories
35 self-standing experimental units
2 lecture rooms
Conference room
Studying rooms
Library
Contact