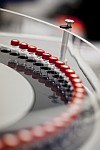 Efficient Use of Energy Resources Using Catalytic Processes (CATPRO)
Identification Number: LM2018119
CATPRO, a part of the ORLEN UniCRE a.s., is a research infrastructure that is oriented on the efficient use of carbon-energy resources using catalytic processes. The aim of CATPRO is to help to overcome the gap between the laboratory and industrial scale that represents one of the biggest challenges in the R&D of transformation of carbon-energy raw materials including the use of biomass for the production of advanced liquid fuels and chemicals.
CATPRO covers almost the complete R&D value-chain that is essential for the development of heterogeneous catalysts and catalytic processes and for their verification in a bench-scale setup under close to real industrial conditions. CATPRO provides expertise and services covering catalyst synthesis and preparation scale-up, catalyst forming and shaping, catalyst testing and process development in bench scale and analysis and identification of complex organic product mixtures.
CATPRO research infrastructure has been included in the Roadmap of Large Infrastructures for Research, Development and Innovation in the Czech Republic. Thanks to the targeted support of large infrastructures by the Ministry of Education, Youth and Sports it is available in open access mode for wide scientific community and industrial partners from the 2016 year.
The data measured using the CATPRO research infrastructure are available free of charge. If you are interested, please contact us here: Kristýna Benešová.
---
| | |
| --- | --- |
| | The project is funded by Ministerium of education, youth and sports of the Czech Republic by targeted support of large infrastructures. |