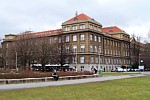 ORLEN UniCRE a.s. has a long-term cooperation with the University of Chemistry and Technology in Prague, especially with the Faculty of Environmental Technology and the Faculty of Chemical Technology, which are focused to the similar research areas as ORLEN UniCRE a.s.. It also seeks to intensify contacts with the Faculty of Chemical Engineering.
A manifestation of this cooperation was the establishment of the University Centre UCT Prague - Unipetrol. Through this center UniCRE cooperates on all categories of teaching chemical technology. The mandatory laboratory trainings of students take place in laboratories of ORLEN UniCRE a.s. every year. Students attend ORLEN UniCRE a.s. to perform auxiliary scientific activities and write their bachelor's, master's and doctoral theses. Theses of all types are selected and organized so that students get a better insight on the real problems in industrial processes.
These activities are developed not only on the basis of informal relations, but also in the framework of the signed trilateral agreement on cooperation concluded between ORLEN UniCRE a.s., UCT Prague and Unipetrol.